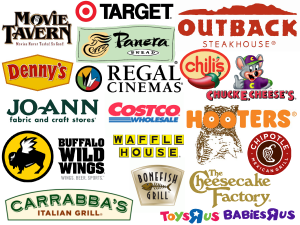 We have been asked and now with recent incidents such as the "Texas police chief asked to leave doctor's office for carrying gun", we have finally decided to post this evolving list of businesses, that infringe on your Second Amendment right to bear arms. These companies publicly state that they do not want legal law abiding citizens to have a handgun on them while in their establishment.
In some states, no gun allowed signs do carry the weight of the law and you can be charged with a crime, if you are caught. This is a dangerous situation being that criminals will ignore the sign and in turn putting innocent citizens in grave risk! In Tennessee, the business is required to protect you if they force you to disarm yourself! Your best bet in states like New York is to not give them your business. Why would you want to fund a business that does not believe in your right to defend yourself? Read Matt's article No Gun Signs to understand what can happen and why it is just better not to patronize businesses such as the below.
If you feel any business is wrongly listed, please contact us. If you find a business that is not listed, yet it should be, let us know and we will add them. Also consider posting news stories and photos of anti-gun signs at businesses on our Facebook page. Stay Safe, Shoot Straight!
| | | |
| --- | --- | --- |
| Company | Category | Info |
| AMC Theaters | Movie Theater | |
| Babies R Us | Dept. Store | |
| Bonefish Grill | Restaurant | |
| Buffalo Wild Wings | Restaurant | |
| California Pizza Kitchen | Restaurant | |
| Carmike Cinemas | Movie Theater | |
| Carraabba's (Bloomin' Brands) | Restaurant | |
| CBL & Assoc. Properties | Shopping Mall | |
| CBS | Media Company | |
| Chili's (Brinker Intl's) | Restaurant | Click Here |
| Chipotle | Restaurant | |
| Chuck E. Cheese | Restaurant | |
| Cinemark Theaters | Movie Theater | |
| CNN | Media Company | |
| Comcast | Media Company | |
| Costco | Dept. Store | |
| Destiny USA | Shopping Mall | |
| Forest City Ent. | Shopping Mall | |
| General Growth Properties | Shopping Mall | |
| Goodyear | Automotive Repair | |
| Google | Media Company | |
| Great American Restaurants | Restaurant | |
| Great Wolf Lodge | Resort | Click Here |
| Hhgregg | Dept. Store | |
| Hooters | Restaurant | |
| Howard Hughes Corp | Shopping Mall | |
| IKEA | Dept. Store | |
| Jack in the Box | Restaurant | |
| Jared Jewelers | Jewelry Store | |
| Jo-Ann Stores | Dept. Store | |
| Kay Jewelers | Jewelry Store | |
| Macerich | Shopping Mall | |
| Maggiano's (Brinker Intl's) | Restaurant | Click Here |
| Men's Journal | Media Company | |
| Modell's Sporting Goods | Dept. Store | |
| Movie Tavern | Movie Theater | |
| NBC Universal | Media Company | |
| Outback (Bloomin' Brands) | Restaurant | |
| Panera Bread | Restaurant | |
| Paragon Theaters | Movie Theater | |
| PayPal | Credit Card Processor | |
| Peet's Coffee and Tea | Restaurant | |
| Qdoba Mexican Grill | Restaurant | |
| Regal Cinemas | Movie Theater | |
| Rolling Stone Magazine | Media Company | |
| Simon | Shopping Mall | |
| Sonic | Restaurant | Click Here |
| Southern Theaters, LLC | Movie Theater | |
| Sprouts Farmer's Market | Grocery Store | |
| Square | Credit Card Processor | |
| Starbucks | Restaurant | |
| Sterling Jewelers | Jewelry Store | |
| T.G.I Fridays (Carlson Companies) | Restaurant | |
| Target | Dept. Store | |
| The Associated Press | Media Company | |
| The Cheesecake Factory | Restaurant | |
| The National Football League | Sports Entertainment | |
| The New York Times Company | Media Company | |
| Time Warner | Media Company | |
| Toy's R Us | Dept. Store | |
| US Bank | Banking Company | |
| US Weekly | Media Company | |
| Value City | Dept. Store | |
| Waffle House | Restaurant | |
| Walgreens | Dept. Store | |
| Whole Foods Market | Grocery Store | |