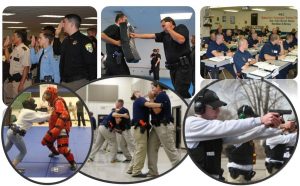 Town Constabularies in Upstate, NY are expanding their court constable roster and you might be who they are looking for! The hosting town is offering the "Basic Course for Peace Officers" and "Basic Course for Peace Officers with Firearms" academy which is required to become a sworn Peace Officer and to work as a New York State Law Enforcement Officer. This physically and mentally challenging academy is open for other agencies to send their recruits through and recommended for those of good repute that are looking for employment in law enforcement.
This academy will include more than the required minimum hours of 99 for the basic course and 47 hours for the firearms course. Extra training will include an Article 26 (Humane Law) class, eight (8) hours of CED (conducted energy device) certification course, TECC (tactical emergency critical care), CPR/AED, and NARCAN.
To find out more and start the vetting process, fill out the below form and someone will contact you for an interview. If selected you will then be approved to begin an extensive background check, drug screening, and medical evaluation in order to be fully accepted into the academy.
Upon successful completion of the academy, graduates will receive Peace Officer certificates from the New York State Division of Criminal Justice Services (DCJS), Municipal Police Training Council (MPTC). Graduates will be qualified to work in many positions to include, but not limited to the following. Police Constable, Court Officer, SPCA Cruelty Investigator, Auxiliary Police Officer
Contact us with any questions or get the ball rolling by filling out the form below to start your career in law enforcement!
When: January 2nd through February 25th, 2018
Times: Tuesday and Thursday evenings from 1700 to 2200 hours, and on Saturdays and Sundays from 0900 to 1900 hours
Where: Multiple locations in the Syracuse, NY area
Prerequisites: In order to participate, you must fall under the following criteria:
Must be a U.S. citizen 21 years of age or older
Must have a high school diploma or GED/TASC Certificate of High School Equivalency
Must pass an extensive criminal background check
Must pass a physical and mental health examination
Must provide a valid government issued photo ID, social security card, and birth certificate
Must have a NYS pistol permit to complete the firearms portion of the training
IMPORTANT INFO, TERMS, AND CONDITIONS:
Commitment: This part-time academy is scheduled to accommodate those students who are unable to attend a full-time academy. Students must attend all sessions of the academy in order to successfully graduate. Makeup sessions will be offered on a case by case basis. Occasionally, class may be conducted on different days and/or times to accommodate instructors and students scheduling.

Required Equipment & Documentation: A list of required documentation as well as a uniform/equipment packing list will be provided once you are fully registered in the academy.

Curriculum: All curriculum and standards-of-training are set forth by the Division of Criminal Justice Services (DCJS), Municipal Police Training Council (MPTC).