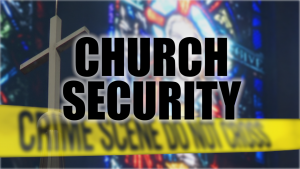 Christian Sheepdogs must sound the alarm and join together to defend the flock. Scripture tells us, "There will be terrible times in the last days…" (2 Timothy 3).
These are terrible times and it is time for Sheepdogs to solidify and define our calling to serve the LORD. It's time to renew our promise and commitment to serve Christ and the Church with all our hearts, minds and strength.
Are you ready to have your sheepdogs trained to protect your flock? Contact us and let's get started!
We offer the below training as stand-alone classes, grouped together in a block,  or all together as a multi-day academy.
Church Security Assessment, 2-3 hours – Lay the groundwork for your safety preparedness plan by conducting a Church Security Assessment.

Safety Ministry Launch, 2 hours –

It all starts here. Having a clear plan of action and gaining support is the first step in creating a strong safety team within your church.

Church Safety Team Academy, 3 hours –

The success of any Safety Ministry begins with the right people. From Team Selection to training on; Ethics/Conduct, Patrol Procedures, Situational Awareness, Radio Procedures, Reporting and Forms, Duties and Responsibilities, Suspicious Behaviors and Calling 911.

Active Shooters Response and Lock-downs, 2 hours –

These modern times are rife with uncertainty and those who wish to destroy our way of life. When a dangerous intruder threatens, how do you protect the lives of those under your churches roof?

Use of Force and Citizen's Arrest Laws, 2 hours – 

The laws surrounding the use of force in a difficult situation can feel muddy and uncertain to many people. Give your Safety Ministry the power of confidence and knowledge behind their actions by teaching them the legal implications and limitations of using force.

Verbal De-escalation/Disruptive Persons, 2 hours – 

A potentially violent person in your congregation becomes verbally disruptive. Do you know how to bring the situation to a peaceful ending?

Child and Vulnerable Adult Protection, 2 hours – 

Children are the most vulnerable and precious of our flock, and they look to us for protection. Learn how to; identify possible instances of child abuse, report evidence and allegations to the proper authorities and spread awareness to prevent abuse within your church.

Severe Weather Preparedness, 2 hours – 

The weather is an ever-changing and sometimes unpredictable force that should never be underestimated. When severe weather systems threaten the well-being of your church and congregation, be prepared to take action.

Fire Safety and Evacuations, 4 hours –

Either as an act of vandalism or an accidental occurrence, fire and arson can pose a serious threat to church property and people. Prevent property damage – or worse – by teaching your church how to reduce fire risks and preparing them for emergency procedures.
For advanced hands-on training for your staff, we can provide the SABRE Red Pepper Spray Certification, NRA and USCCA Live-Fire Courses. We are also able to provide Laser Ammo training products, implement surveillance cameras, and offer Angel Armor ballistics to harden your location.
For your congregation, we offer the First Aid and CPR Certification, NRA Refuse To Be A Victim Course, NY Handgun Safety Course – for those looking to get their pistol permit, and Multi-State Pistol Permit Course – for those looking to carry in multiple states.