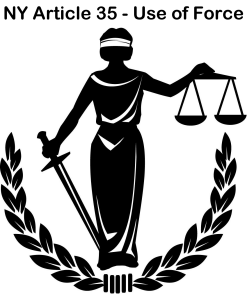 This course is a must for anyone who has firearms and could potentially use them for self-defense! It has also been good in helping New York residents in asking the licensing officer (judge) for a full carry license without any restrictions. As well, it has been successful in putting many judge's minds at ease with removing restrictions, such as sportsman, for those currently holding a pistol license.
This course is taught by Matthew Mallory, a currently sworn law enforcement officer, New York State DCJS/MPTC Certified Law Enforcement Instructor, and an International Law Enforcement Educators & Trainers Association (ILEETA) Member. Matt has put hundreds of hours into developing this course. On top of his training around the world, in the military and law enforcement, he continuously attends training nationally in self-defense and firearms, both as a student and as an instructor. Annually, he meets with county judges, sheriffs, and DAs, has met with and interviewed people who are survivors of deadly encounters, such as George Zimmerman, and weekly interviews people on his show Meet The Pressers.
This course will break down the NY penal code in layman's terms making it easy to understand. Fused with thought provoking scenarios and real life stories, this knowledge will be a helpful tool for if you are ever presented with a similar situation. Those who decide to defend themselves with or without a firearm, in or outside of their home, must know New York State law as it pertains to the justification to use deadly physical force (DPF) as a defense against deadly physical force. Learn even more by watching scenarios unfold in the Laser Ammo Video Scenario Trainer simulator, the one used in our Smokeless Range Courses.
Classroom Time: 5 hours
Range Time: None
Prerequisites: None
Investment: $80 (Register below then make payment)
Instructor: Matthew Mallory
Read what our students have to say about this course:
The course deals with the responsibility to make proper decisions with regard to the use of force in an ever present reality, and is not lessened by the fact that the armed citizen must make these decisions under the worst of circumstances. New York State Residents will learn that their use of force will be subject to scrutiny from both inside and outside the Criminal Justice System. Criminal and civil prosecution may be the result if the individual's actions are deemed unlawful or inappropriate (excessive force). Yet, failure to use force when it is reasonable and necessary may very well mean injury or death to the person and/or innocent civilians. This course will help you demystify the penal law and understand how-to and when-to respond to life-or-death situations.
CLICK SUBMIT REGISTRATION ABOVE

TERMS AND CONDITIONS:
Payment: This course is only $80. After filling out the form above and clicking the "Submit Registration" button above the form will take you to a page to make payment with PayPal/credit card. If you accidentally closed out of the payment page you can make payment from our PAYMENT PAGE. If you want to mail a check/money order you can close out of the payment page, after clicking "Submit Registration" above and visit our PAYMENT PAGE for directions on where to mail a check/money order and who to make it out to. You can also review our payment terms on that page.
Registration: We do not accept walk-ins. You will need to register above and fully make payment in order to secure a seat in this course.
Citizenship & Convictions: You must be a LEGAL United States Citizen in order to attend this course. If you have questions, contact us.
The successful completion of any PS&Ed course does not guarantee the removal of a restriction or issuance of an unrestricted license. It is the discretion of the licensing officer of the county that you are applying/applied in.
You agree and understand that the information presented in this course is not legal advice and any actions you take or decisions you make are of your own volition. You agree to hold harmless PS&Ed, it's employees, and/or contractors.
At Your Location: For your convenience, we offer the above courses at your location for only $10 more per student. We do require a minimum of eight students for any private course. Contact us to book a course at your location or chose "TBD At Your Location" from the above form drop down and we will be in touch to set a date.
Contact us with any questions.
nra, nra basic course, leosa, handgun, angel armor, uscca, article 35, use of force, handgun, training, hr218, leosa hr218, New York state handgun safety course, concealed carry permit, law enforcement, education, permit course, multi state, nra certified, ballistics, instructors, officers, re-seller, zombie shoot, historical shoots, private lessons, try it before you buy it, pistol shooting, personal protection, metallic cartridge reloading, ccw1, ccw2, simco, green gun, tactical clothing, products, public safety, boater education, TIBYBI