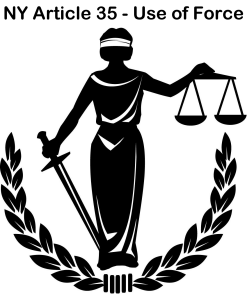 This course is a must for anyone that would defend themselves or others if their life was in danger! It also fulfills 5-hours towards the required New York State 18-hour Concealed Carry Firearm Safety Training in order to apply for a handgun license in NY State.

This course is taught by Matthew Mallory, a currently sworn law enforcement officer, New York State DCJS/MPTC Certified Law Enforcement Instructor, and an International Law Enforcement Educators & Trainers Association (ILEETA) Member and Instructor. Matt has put in hundreds of hours into developing this course. On top of his many thousands of hours of training around the world, in the military and law enforcement, he continuously attends training nationally in self-defense and firearms, both as a student and as an instructor. Annually, he meets with county judges, sheriffs, and DAs, has met with and interviewed people who are survivors of deadly encounters, such as George Zimmerman, and interviews people on his show Meet The Pressers. Matt is also a weekly guest every Wednesday morning around 6am on the Syracuse Morning News with Dave Allen.
This course will start with, what Matt coins, the Four Horses of Your Apocalypse, case law, and actual cases across the country and how they played out in court and in the personal lives of those effected. At the end of the class he breaks down the NY penal code in layman's terms making it easy to understand. Fused with thought provoking scenarios and real life stories, this knowledge will be a helpful tool for if you are ever presented with a similar situation. Those who decide to defend themselves with or without a firearm, in or outside of their home, must know how it will play out in real life. Matt will teach you his higher level of thinking so you are not in the fight in the first place but if you are in the fight he teaches you how to win the war afterwards. New York State law (Article 35) as it pertains to the justification to use deadly physical force (DPF) as a defense against deadly physical force is just the tip of the spear!
Continue your training and learn even more by watching scenarios unfold in our Smokeless Range Courses and our Force on Force Courses.
Classroom Time: 5 hours
Range Time: None
Prerequisites: None
Investment: $100 (Register below then make payment)
Instructor: Matthew Mallory
Read what our students have to say about this course:
"I've taken a number of courses from Matt over the years, including actual shooting (pistol) proficiency related exercises. This most recent, Article 35 (use of deadly force) was thorough and very detailed. The material and examples were presented in an efficient and easily understandable manner for everyone in attendance. I would recommend the course and PS&Ed highly." ~ Bill L. from Fayetteville, NY
I would recommend the course and PS&Ed highly
"I find Matt to be a wealth of information about gun safety and self-defense from both what I hear on WSYR radio and in this class. I feel certain that he has fulfilled the new requirements of this course required to obtain my pistol permit. If he can't answer a question with certainty, he will refer you to a source where you should be able to get the answer. I also appreciate the websites for more information which Matt offers on his follow-up email. I have already referred a family member to Matt's website." ~ Stephanie M. from Waterloo, NY
I find Matt to be a wealth of information
"Matt Mallory is an excellent Instructor, he makes everything clear before he moves to the next phase. Takes questions, and answer them and makes sure everyone is on the same page. I enjoyed the course" ~ Bobby G. from Syracuse, NY
Matt Mallory is an excellent Instructor
"Very well-organized, Matt covers a large amount of practical information that gun-owners need to be aware of to best protect themselves legally." ~ Tom H. from Liverpool, NY
Very well-organized
"My wife & I just attended the 5 hour Use of Force & NY Law Zoom training class. Class was extremely interesting and informative. Matt's presentation and sense of humor made the 5 hours pass quickly. We would recommend Matt's classes to all our family & friends." ~ Monica & Paul L. from  Stony Point, NY
Class was extremely interesting and informative.
"In the three courses we've taken, you have been very informative and you have a great teaching methods, you're down to earth and you convey the concepts very well. It's also nice to hear you give thanks to our Lord God! If it weren't for God, Guts and Guns we'd all probably have a British accent….Lol….(kind of) My wife is interested in a couple of more of your classes and we'll be in contact when the time arises. Thank you and God Bless you and your family" ~ William W. of Baldwinsville, NY
You're down to earth and you convey the concepts very well
"I feel Matt did a great job presenting the material and using everyday scenarios that you could relate to of put yourself in. Course was informative on what laws we need to worry about by using deadly force and what the consequences you and will encounter. Thank you for such a great class well worth the money." ~ Brett L. of Central Square, NY
Well worth the money.
"I came into this class only hearing rumors of what was and wasn't permissible self defense in NY. Often people get caught up in what someone else said is the law, and Mr. Mallory does an exemplary job of explaining exactly where that fine line is. I also appreciate his approach that even though you may be justified, you should always approach every situation as though you've got nothing but your bare hands. Its a common sense (if that's still a thing) approach to responsible firearm possession. Worth every cent spent, and I now feel quite capable to keep myself on the right side of the law and the jury of public opinion. Thanks PS&Ed!" ~ Kurt K. of Canastota, NY
Mr. Mallory does an exemplary job of explaining exactly where that fine line is.
"Mr. Mallory's delivery in the two courses I have taken provided me with a comprehensive understanding of the material being delivered. Providing relevant, critical information, with PowerPoint visuals to facilitate the experience, the material Mr. Mallory conveys is delivered and is not only synchronously aligned with real-world examples, his engaging talking points bring additional relevance to the importance of the material being assimilated. As a result of taking each course, I left with a far greater understanding of the content upon completion. When the information at hand could be used to save lives, there is no room for error, so effective and engaging instruction is beyond necessary, and certainly is delivered." ~ Lynn B. of Auburn, NY
There is no room for error, so effective and engaging instruction is beyond necessary.
"PS and Ed is amazing! The courses are so informational and Matt keeps the class fun an engaging. I was shocked when class ended as it didn't feel like it had been 5 hours. I will only take classes through PS and Ed!" ~ Kaitlin Y. of Liverpool, NY
"this Article 35 class was VERY informative, it is well worth the money and time. as time will allow, it is my intent to further my education, training and knowledge on other areas of safety by taking more classes like this and hopefully with Matt. He is a very good instructor …Thanks Matt…." ~ Steven B. of Marlboro, NY
"Article 35 can be a very dry subject but I think the information was presented in a way that made a lot of sense and we had a lot of interaction with the instructor. Some classes I have been to in other places were just listen to a lecture or a PowerPoint and then take the test and go home. We had the time to ask any and all questions. It was also nice to have a smaller class setting. I would sincerely hope that anyone else that needed that training would take this course." ~ Gary D. of Camillus, NY
Had a lot of interaction with the instructor
"Basically the instructor was well he was well good at his job I mean he breakdown parts that I didn't know that I didn't learn some thing from class that he did for us" ~ Fabian L. of Syracuse, NY
"PS&Ed staff were more than helpful in assisting me while I was applying for an upgrade to a pistol permit with no restrictions. Matt is extremely knowledgeable on gun safety, laws, and the 2nd Amendment. After a long 2 years of trying to obtain my carry permit, I received my full carry permit and I could not have done it without the confidence, expertise, and care of Matt and his team. He really cares about your interests and will not give up until your goal is achieved, or if all ideas are outsourced. What started 2 years ago for me as an interest in target shooting has become a desire to live a lifestyle in carrying responsibly, and to become a supporter in promoting change to some of New York's difficult laws on purchasing, acquiring, inheriting, owing, and possessing firearms. My advice to all for acquiring an unrestricted pistol permit is to enroll in the Handgun Safety and NRA Basic Pistol courses. Keep taking classes with Matt, you will learn so much about guns, safety, and federal and state laws. You will also learn how to properly react in threatening situations; if you ever have to draw a weapon. Be patient with your judge, and instructor do not give up if you are denied the privilege of having an unrestricted pistol permit. It is an honored achievement when you can obtain an unrestricted pistol permit on your own with the courteous help of an instructor, rather than applying though cronyism." ~ Brandon B. from Clay, NY about our "Proper Cause" Letter Writing Service and many courses
I received my full carry permit…
"Excellent instruction. I have taken multiple courses from PS&ED; Article 35, SIMCO, USCCA, ETC… This not only helped get my restrictions removed but it provided realistic situational instruction as well as clear information regarding legal rights and responsibilities. This is NOT target shooting at the range. This is situational recognition, avoidance, engagement, legal ramifications, etc… I believe this is good experience for anyone wishing to carry unrestricted and I believe the judges look favorably on this type of instruction." ~ Paul from Liverpool, NY about many of our courses and helping to get his restriction removed
Excellent instruction.
I now have my permit with no restrictions.
"Very useful information. Moves along with examples and side stories of situations that you may encounter and how the law will deal with you. Every Gun owner should attend. Thanks." ~ Dean from Auburn, NY about our Article 35 Course
Very useful information.
"Your seminar on Article 35 was very informative and, at the same time, interesting and entertaining. Many of my questions of when, where, and why I could have issues when in possession of my pistol were answered. Very glad that I took the time." ~ Susan from Liverpool, NY about our Article 35 Course
Very glad that I took the time.
"Very informative and interactive course. Instructor was very informative and personable. I would take this course or any other from this instructor." ~ Reinaldo from Clay, NY about our Article 35 Course
Very informative and interactive course.
"Very informative,knowledge of speakers very professional." ~ Mike from Syracuse, NY about our Article 35 Course
Very informative,knowledge of speakers very professional.
"The Knowledge base is well above what you would expect. When I went in, all I thought I would hear was do, this and don't do that. The experience these instructors bring to the table is amazing. They kept us interested in what they were saying and made feel that they were not above us. Nor did they act like they didn't think we deserve to be there. They told us the laws and the consequence, but also told us what our rights were." ~ Bill from Syracuse, NY about our Article 35 Course
The experience these instructors bring to the table is amazing.
"Everything was awesome and extremely informational. Best investment I could have made! The knowledge was top notch and every question asked there was always an intelligent answer that was said. Would and have recommended to anyone wanting to get their pistol permit or just gain knowledge about the subject. Will definitely be taking more classes." ~ Andrew from Oswego, NY about our NY Handgun Safety Course, Article 35 Course, SIMCO-2 Course, and Proper Cause Letter Service
Best investment I could have made!
"Another informative class. Big help for swamp navigation." ~ Edward from Oswego, NY about our Article 35 Course
Another informative class.
"Highly recommend taking courses from PS&Ed. Huge amount of learning, tips & tricks presented by an awesome instructor who is able to break things down for you so you can retain the information. I'm looking forward to my next class." ~ Stephanie from Liverpool, NY about our NY Article 35 & NRA CCW1 SIMCO Courses
Highly recommend taking courses…
The course deals with the responsibility to make proper decisions with regard to the use of force in an ever present reality, and is not lessened by the fact that the armed citizen must make these decisions under the worst of circumstances. Residents of all states will learn that their use of force will be subject to scrutiny from both inside and outside the Criminal Justice System. Criminal and civil prosecution may be the result if the individual's actions are deemed unlawful or inappropriate (excessive force). Yet, failure to use force when it is reasonable and necessary may very well mean injury or death to the person and/or innocent civilians. This course will help you demystify the penal law and understand how-to and when-to respond to life-or-death situations.
CLICK SUBMIT REGISTRATION ABOVE

TERMS AND CONDITIONS:
Payment: This course is only $100. After filling out the form above and clicking the "Submit Registration" button above the form will take you to a page to make payment with credit card. If you accidentally closed out of the payment page you can make payment from our PAYMENT PAGE. If you want to mail a check/money order you can close out of the payment page, after clicking "Submit Registration" above and visit our PAYMENT PAGE for directions on where to mail a check/money order and who to make it out to. You can also review our payment terms on that page.
Registration: We do not accept walk-ins. You will need to register above and fully make payment in order to secure a seat in this course.
Citizenship & Convictions: You must be a LEGAL United States Citizen in order to attend this course. If you have questions, contact us.
The successful completion of any PS&Ed course does not guarantee the removal of a restriction or issuance of an unrestricted license. It is the discretion of the licensing officer of the county that you are applying/applied in.
You agree and understand that the information presented in this course is not legal advice and any actions you take or decisions you make are of your own volition. You agree to hold harmless PS&Ed, it's employees, and/or contractors.
At Your Location: For your convenience, we offer the above courses at your location. We do require a minimum of eight students for any private course. Contact us to book a course at your location or chose "TBD At Your Location" from the above form drop down and we will be in touch to set a date.
Contact us with any questions.
nra, nra basic course, leosa, handgun, angel armor, uscca, article 35, use of force, handgun, training, hr218, leosa hr218, New York state handgun safety course, concealed carry permit, law enforcement, education, permit course, multi state, nra certified, ballistics, instructors, officers, re-seller, zombie shoot, historical shoots, private lessons, try it before you buy it, pistol shooting, personal protection, metallic cartridge reloading, ccw1, ccw2, simco, green gun, tactical clothing, products, public safety, boater education, TIBYBI