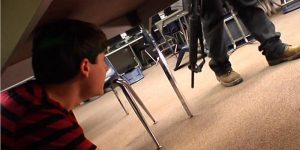 Due to the constant active shooter atrocities we have put our experience and background to work in offering a FREE two-hour Active Shooter Seminar. Our goal is to inform you so lives are saved!
Schools, malls, and now churches are not safe from active shooters. Even worse, many places feel that putting up a sign that says "No Guns Allowed" will keep bad people from entering. We all know that is not the case! So how do you prepare? Do you practice good situational awareness? Are you keen to what is going on around you and what things people are doing that could be a warning sign? Do you know how to fight back if needed? Do you know basic first aid techniques?
Read what our students have to say about this FREE seminar:
We will focus on the strategies of Avoid, Deny, Defend (ADD) and Run, Hide, Fight. You will learn valuable life saving ways to avoid, fight, and survive an active shooter event!
This course will include sections of curriculum and experience from the following sources:
Military, Law Enforcement, NRA, and Paramedic Instructors with many years of experience with active shooter events and in breaching and clearing buildings.
Chose a date and location in the form below to register. If you are interested in hosting this seminar in your area or location please contact us.