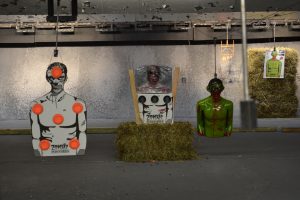 Are you an enthusiast of The Walking Dead and World War Z? Are you a Z.E.R.T. (Zombie Eradication Response Team) member or an aspiring Zombie hunter? Are you ready for the Apocalypse? If so, you have come to the right place! Help us to take out the walking dead!
You will attend a short firearms safety and familiarization brief then take up arms to eradicate the oncoming zombie horde, by shooting four different .22 caliber rifles to include a Henry Frontier lever-action Rifle, a Mossberg Blaze Orange semi-auto Rifle, a Mossberg AR 715T semi-auto Rifle, and a Savage Mark I/II bolt-action Rifle, plus the Crosman XR175 Crossbow, in five different courses of fire, at multiple targets to include bleeding, exploding, paper, spinning, and moving. Additionally, we will have our Laser Ammo Zombie Simulator setup so you can shoot laser guns at the horde of zombies approaching you on the TV screen! To top it off, we will have Negan's Bat Lucille from The Walking Dead for you to handle and gawk at.
Our two-hour live-fire zombie shoot is run by certified and experienced instructors, requires no shooting experience or permits, and is for anyone 12-years of age or older.
The zombie shoot is only $75 and the memories will last forever! Great for Birthday, Christmas, and Valentine's presents! Signup below then make your course payment via our PAYMENT page. If you are interested in bringing this course to your club or range contact us to work out the details. Coming to an affected area near you!
Zombie Shoot Sponsors

TERMS AND CONDITIONS:
Payment: This course is $100. After signing up for the course above, please visit our PAYMENT PAGE to review the payment terms and make a payment for this course.
Dressing up as a zombie is not allowed at this event. Those that arrive in zombie attire will not be allowed to enter.
Citizenship & Convictions: You must be a LEGAL United States Citizen in order to attend this course. You must legally be able to be in possession of a firearms to attend this course.
Registration: We do not accept walk-ins. You will be registered upon receipt of the application and payment.
Firearms & Ammunition: All firearms and ammunition will be provided! DO NOT BRING ANY GUNS OR AMMO TO THIS COURSE! 
Contact us with any questions.
Address of Location:
SPC (Syracuse Pistol Club), 8042 Henry Clay Blvd, Liverpool, NY 13090