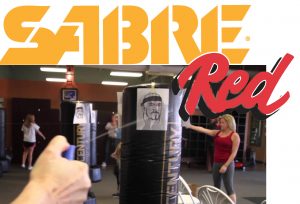 There are criminals on the streets that want to do you harm! Are you prepared to defend yourself? Are you not yet ready to use a gun for personal protection? Or would you simply like to complement your current firearm with another powerful, safe and effective self-defense tool? One great, less-than-lethal option for you may be Oleoresin Capsicum (OC), more commonly known as pepper spray. Extracted from peppers, OC spray irritates the eyes to cause tears, pain, and temporary blindness. Learn the best ways to use pepper spray to stop and escape dangerous threats.
Note: You will NOT be exposed to active pepper spray in this course!

This course is run by law enforcement instructors certified by New York DCJS/MPTC, Safariland, and Sabre Red. Practice is conducted with water-filled inert practice sprays at static targets, and in advanced skills training at instructors during a simulated attack. Each student will receive 3 water-filled inert practice canisters, a defense spray with quick-release key ring, a certificate of completion, hands-on training, classroom time, and more.
Read what our students have to say about this course:
Learn the safety mindset and adopt the tools to protect yourself and your family. You'll participate in hands on training to help prepare you to escape a dangerous threat. Become proficient and accurate when using your pepper spray by deploying Water Filled, Inert Practice Sprays at Static Targets. Advance your skills by deploying the Practice Spray at your instructor during a simulated attack! BE SMART – BE READY – BE SAFE!
Students will be exposed to four (4) hours of Safety Awareness Information, Tips, Skills and Techniques within an intimate and fun atmosphere. Class sizes are limited allowing the instructor to critique your performance and provide important feedback.
Each student will receive: Civilian Safety Awareness Manual, 3 Water Filled Inert Practice Canisters, Defense Spray with Quick Release Key Ring, Survivor Skills for Smart Living, a Certificate of Completion, Classroom Time, and Hands On Training

;
Weapons: Due to this course inducing stress and causing you to cognitively think, for safety reasons, we do not allow any types of weapons on the students. Please make sure to secure your firearms, pepper spray, TASER/CEW, knives, and other defensive tools prior to signing into the class.
Payment: This course is only $70. After signing up for the course above, please visit our PAYMENT PAGE to review the payment terms and make a payment for this course.
Registration: We do not accept walk-ins. You will need to register above and make payment to secure a seat in the course.
Citizenship & Convictions: You must be a LEGAL United States Citizen and at least 18 years old in order to attend this course. If you have questions, contact us.
At Your Location: For your convenience, we offer the above courses at your location for only $10 more per student. We do require a guaranteed minimum of eight students for a private NY four hour course. Contact us to book a course at your location or chose "TBD At Your Location" from the form drop down from the desired course above and we will be in touch to set a date.
Contact us with any questions.