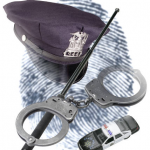 NY State requires that Sworn Peace Officers complete annual in-service training on the weapons that they carry for their official duties. We offer this training annually, as needed, for multiple LE employing agencies. Though not require by DCJS, we include handcuffing, defensive tactics (DT), and much more training in our courses. Our goal is to prepare you for what could happen so that you have the tools you need to respond and return home safely!
We can customize and offer much more in-depth training than required by the state. Contact us for more information or register below for training that your employer has scheduled with us. We look forward to you joining us for an exhilarating training session!
The state's minimum requirements are as follows:
Use of Force – Complete online through DCJS
Aerosol Subject Restraint (ASR/OC) – One hour
Baton – One hour
CED – One hour
Firearms – Five hours
Costs: After registering below you are taken to a payment page. You will need to type in the total amount due as noted below based on the courses you are registering for. You can also purchase TASER cartridges on our payment page.
2hr DT In-Service (OC & Baton w/ cuffing and DT) $40
3hr DT In-Service (CED, OC & Baton w/ cuffing and DT) $60
5hr Firearms In-Service $100
8hr ALL In-Service $150 ($50 discount)
Equipment Requirements: Varies based on training you will be taking. All holsters that go along with your OC, Collapsible Baton, CED with (2) cartridges, Handgun with 100 rounds of ammo. You can purchase cartridges during your registration below.
Prerequisites: MUST be a currently sworn New York State law enforcement officer. For any initial training with us you must submit proof that you recently completed Article 35. For all other training you must submit proof that you have recently completed the annual DCJS online use of force training.

Packing List: All training is completed in a gym or range type setting. Bring your duty belt with all equipment/weapons pertinent to the training your are taking. Dress appropriately but comfortably. Wear your duty pants and belt, no duty shirt is required, t-shirt is acceptable. Duty boots are acceptable but sneakers will also be fine. For DT, CED, baton, and OC be prepared to get dirty, sweaty, and bruised from blocking punches and kicks.
CLICK SUBMIT REGISTRATION ABOVE
TERMS AND CONDITIONS:
Payment: This course is only $40-150. After filling out the form above and clicking the "Submit Registration" button above the form will take you to a page to make payment with PayPal/credit card. If you accidentally closed out of the payment page you can make payment from our PAYMENT PAGE. If you want to mail a check/money order you can close out of the payment page, after clicking "Submit Registration" above and visit our PAYMENT PAGE for directions on where to mail a check/money order and who to make it out to. You can also review our payment terms on that page.
Registration: We do not accept walk-ins. You will need to register above and fully make payment in order to secure a seat in this course.
At Your Location: For your convenience, we offer the above courses at your location for only $10 more per student. We do require a minimum of eight students for any private course. Contact us to book a course at your location or chose "TBD At Your Location" from the above form drop down and we will be in touch to set a date.
Contact us with any questions.