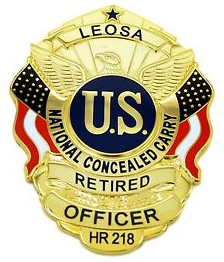 This course is the U.S. Federal H.R.218/LEOSA (Law Enforcement Officers' Safety Act) qualification training under 18 U.S. Code §926B and 926C. Retired Law Enforcement Officers (LEOs) wishing to carry in any state, with very few exceptions, need to attend this course to qualify under the LEOSA Federal guidelines. Also welcome to attend are any currently sworn Law Enforcement Officer who needs range qualification time or wants to understand how this federal law applies to them.
Course Length: 4 hours
Course Price: $60 for first gun, $30 for each additional
Course Instructor: NYS DCJS MPTC Certified LE Firearms Instructor
Read what our students have to say about this course:
"Range and classroom presented was professional and informative. This is my second session with Matt Mallory and his training is very helpful both on the range and in the classroom. Particularly like the presentation on LEOSA provided by Mike. Thanks again for letting me participate." ~ Anthony D. of Syracuse, NY
Thanks again for letting me participate.
"LEOSA training was updated and presented in an enjoyable manner. Range time was run in an enjoyable, but safe manner. Both Instructors were knowledgeable and were experienced in their art." ~ Dave W. of Pennellville, NY
Training was updated and presented in an enjoyable manner.
"I took the LEOSA course and range qualifying course,II thought the course was very well presented and cleared up a lot of confusion about the LEOSA/HR218 law. The instructors were very well informed and answered any questions the attendees had. I have taken two courses from your company and was very impressed with both. I will definitely sign up for more courses in the future and I would and will recommend your company to anyone who asks." ~ Jim from Auburn, NY about our LEOSA/HR218 Course
The instructors were very well informed…
"Course was very well presented; professional, well trained instructors." ~ William from Auburn, NY about our LEOSA/HR218 Course
Course was very well presented; professional, well trained instructors
Signup for the qualification course below. Payment can be made here. Full text of H.R.218 can be found here. Please review the required equipment list below.
You will shoot a NY State DCJS MPTC standard qualification course with a total of 50 rounds. As provided in the LEOSA Federal law, you will be provided a card that states you have qualified with a specified type of firearm, on an approved course.
NOTE: This training session will qualify you in a course of fire in a semi-auto handgun, revolver, and/or rifle. No claims will be made as to what states or areas will or will not honor the qualification.
Subjects Covered:
Overview of LEOSA law, allowances, restrictions, and case law
Aspects of civilian concealed carry and mindset
Firearm safety rules and instruction
Range qualification
Required Equipment:
One of the following for proof of LEO status:

Currently sworn LEO ID
Retired LEO ID
Military LEO ID

A valid resident state issued pistol license
A handgun in good working condition
A minimum of three magazines or two speed loaders
One hundred fifty (150) rounds of factory ammunition – No reloaded/hand-loaded ammunition. You will have two-to-three chances to qualify.
A good quality belt mounted, strong side, holster that covers the trigger guard – No SERPA Holsters! Duty holster allowed for currently sworn officers.
A sturdy belt
A holder or pouch for your extra magazines/speed loaders
Eye protection
Ear protection
A hat with a brim
Range-appropriate clothing (casual/range clothing)
Prerequisites- In order to participate, you must fall under the following criteria:

Be a currently sworn peace or police officer for a public agency and/or have retired in good standing from service with a public agency as a law enforcement officer.
Is/was authorized by law to engage in or supervise the prevention, detection, investigation, or prosecution of, or the incarceration of any person for any violation of law, and had statutory powers of arrest.
Is/was authorized by your agency to carry a firearm while on duty.
If retired:

Before such retirement, was regularly employed as a law enforcement officer for an aggregate of 10 years or more.
Retired from service with such agency, after completing any applicable probationary period of such service, due to a service-connected disability, as determined by such agency.
Have a non forfeitable right to benefits under the retirement plan of the agency.
CLICK SUBMIT REGISTRATION ABOVE
nra, nra basic course, leosa, handgun, angel armor, uscca, article 35, use of force, handgun, training, hr218, leosa hr218, New York state handgun safety course, concealed carry permit, law enforcement, retired law enforcement, education, permit course, multi state, nra certified, ballistics, instructors, officers, re-seller, zombie shoot, historical shoots, private lessons, try it before you buy it, pistol shooting, personal protection, metallic cartridge reloading, ccw1, ccw2, simco, green gun, tactical clothing, products, public safety, boater education, TIBYBI