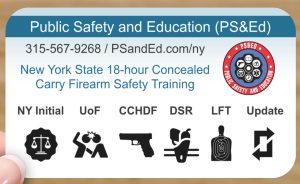 Download your pro-2A sign, learn more about the CCIA law, and register for the Update course here.
Arm yourself with knowledge and experience needed to safely own, carry, and use a handgun correctly. Are you looking to obtain a New York State Pistol License, a.k.a. pistol permit, for personal protection, hunting, and/or to have fun at the range or in your back yard with a handgun? If so, you have come to the right place!
PS&Ed was the FIRST company in the state of New York to publicly release the new 18-hours of training (New York State Concealed Carry Firearm Safety Training), the first to hand an 18-hour certificate to NY residents – to include the first one in NYC, and PS&Ed is approved in more counties than ANY other instructors or company in the state! Our instructors have been offering premier education for over 20-years. A full time training company teaching over 90 self-preservation courses over 300 times a year, all over the country, to many thousands of students that range from new to experienced shooters and include instructors, law enforcement, military, and competition shooters. We are glad you are trusting us with your educational needs and look forward to having you in class.
NOTE: Though the New York State Concealed Carry Firearm Safety Training and instructors are spelled out in the Concealed Carry Improvement Act (CCIA) law each county is handeling things differently. Make sure to check with your county as to who is approved to teach their residents. Not all instructors or training is approved nor is all training the same quality. As our reviews show, we bring our courses to the next level!
The below courses fulfill the requirement under the new Concealed Carry Improvement Act (CCIA) for the New York State Concealed Carry Firearm Safety Training and collectively provide the 18-hours of required training in order for any NY county to accept and process your application for a "have and carry concealed" pistol license a.k.a. concealed carry license. If you do not want to carry in public and only want to "have and possess" license (a.k.a premises license) check with your county if they are requiring our four-hour NY Initial Handgun Safety Course.
NOTE: If you already have a pistol license and live above Westchester County you do NOT need to take the 18-hours of training to keep/renew/re-certify your pistol license every three-years. If you are applying for a new pistol license anywhere in NY State and want to carry outside of your property the 18-hour course is required to obtain an initial license after 1 September 2022. Those who live in Westchester County or down through NYC or in Long Island and have a pistol license will need to take the course every three-years in order to keep their license current.
The list of courses below meet the requirements for NY residents and non-residents who are looking to apply for a pistol permit/license to own and be in legal possession of a handgun in NY State. As well, this is a great course for those who want a refresher or those who did not need to take the course when they received their license many years ago.
Classroom Time: 16-hours
Range Time: 2-hours
Prerequisites: 21 years old or an honorably discharged veteran 18-20
Investment: $340 for concealed carry or $60 for premise (If required by your county)
Instructor: Matthew Mallory
Note: All course dates and locations are listed in the signup form for the respected course. PLEASE DO NOT register more than one time and don't register unless you plan to pay when you register, are serious, and fully plan to attend! There are NO REFUNDS for ANY reason!

As of 1 Sept 2022 all New York Counties should be requiring the full 18-hour course, though some have been slow to implement the new law. You will need to take ALL five (1-5) of the below courses in order to apply for a concealed carry pistol permit/license in your county. You will need to pass the written test and shooting qualification, as noted below, in order to receive an 18-hour certificate. Alternately, see #6 below to attend the full 18-hours in a 2-4 day session. Prior students, note #7 below to earn credit for past training with us. If you are looking for a "possess on premise" license/permit you may need to take only the the NY Initial Handgun Safety Course below. Check with your county!

NY Initial Handgun Safety (NY) 4-hours $60 (Register below)
Use of Force & NY Law (UoF) 5-hours $100 PSandEd.com/a35
USCCA Concealed Carry Home Defense Fundamentals (CCHDF) 5-hours $60 PSandEd.com/cchdf
Draw, Shoot, and Re-holster (DSR) 2-hours $60 PSandEd.com/simco
Live-Fire Training (LFT) 2-hours $60 (Register below) This course is the final training required to complete your 18-hours of training and earn the final certificate to turn into your county. This training includes…

A 50-question written test with a score of at least 80% to pass.
A refresher on shooting fundamentals and proper gun safety.
The Live-Fire Proficiency Assessment administered from a distance of 12′, shooting five rounds of ammo with four of those shots landing in the 25.5″ x 11″ target area. A PS&Ed branded target, UTM GLOCK 17/19 handgun, and Non Lethal Training Ammunition will be provided and included in the cost of this training.

Full Course (FC) 18-hours $340 (Register below then pay on payment page)
Update Course (Update) 2-hours $20 This course if for those who have taken any of the above courses with us within the past five-years AND prior to 1 September 2022. In order to get credit towards the 18-hours you would need to attend all of the courses above that you have attended with us, present the certificate for each course you have attended, and attend this short 2-hour course to cover the new information required under the new CCIA law. PSandEd.com/ccia
The below form is to register for the NY INITIAL 4-HOUR HANDGUN SAFETY COURSE (NY), the 2-HOUR LIVE-FIRE TRAINING (LFT), and the FULL 18-HOUR COURSE (FC) – when we teach all the above courses in one two-to-four-day session. Otherwise, please click the links above to register for the other courses (UoF, CCHDF, and DSR) on their respective pages.
CLICK SUBMIT REGISTRATION ABOVE BEFORE MAKING PAYMENT!
Read what our students have to say about this course:
Payment: The NY Initial and Live-Fire Training (LFT) Courses are only $60 each. The full 18-Hour course (FC) is $340. You can take the full course in a two-day session listed as FC or take the individual five-courses listed above that total 18-hours. After filling out the form above and clicking the "Submit Registration" button above the form will take you to a page to make payment with PayPal/credit card. If you accidentally closed out of the payment page or want to pay via check/money order you can visit our PAYMENT PAGE for directions on where to mail a check/money order and who to make it out to, or to complete your payment. You can also review our payment terms on that page.

Refunds: You are paying for a product, service, and/or seat in a course. You agree to follow through on the commitment made and that no refunds will be given or offered for any reason.
Registration: We do not accept walk-ins. You will need to register above and make payment to secure a seat in the course. DO NOT register if you are not serious about attending and ready to pay when you register! 
Citizenship & Convictions: You must be a LEGAL United States Citizen in order to attend this course. Past convictions might not bar you from obtaining your pistol license. If you have questions, contact us.
At Your Location: We are always looking for new locations across NY State to teach the 18 hour course. If you have a location, it does not need to be a range, contact us to get the ball rolling.
The successful completion of any PS&Ed handgun training does not guarantee the issuance of a carry license in New York State. The issuance of a carry license remains at the discretion of the licensing officer of the county or state that you are applying in.
Students are responsible for confirming said course is accepted in the county that they are applying in.
Firearms & Ammunition: All guns and ammo for the courses will be provided by PS&Ed. There is no need for you to bring guns or ammunition to these courses if you do not have a pistol license!

Contact us with any questions.
concealed carry