Welcome to the official website of Public Safety and Education, better known as PS&Ed (pronounced P. S. and Ed). Offering training and education courses and private lessons coupled with shooting guns before you buy them with our Try Me/Buy Me (TM/BM) shoot. We can also bring any of our courses to your location and if a course or date you are looking for is not listed, contact us to arrange adding it to the schedule.
PS&Ed is also a Type 07 FFL which allows us to buy and sell guns, ammo, pepper spray, and service our client's firearms. We offer all major manufacturers products as well as a full slate of gunsmith and manufacturing services.
Don't miss our IMDb listed show Meet The Pressers where we bring our experience and witty banter to the masses. Other ways to soak in the education we have to offer is to read articles we put out for national print and online publications, such as Matt's interview with George Zimmerman , Most Popular Duty Guns for Law Enforcement, Gear You Need to Become the Ultimate 3-Gunner, Testing ESS Eye Pro., and The Smoking Gun – Marijuana and the Second Amendment.
Located near Syracuse, in Upstate New York – founded by military veterans and current law enforcement officers – we look forward to helping you with all of your firearms and self-defense needs.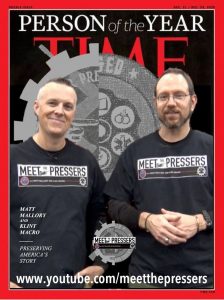 "Meet The Pressers" is an internet show that discusses firearms, defensive training, products, accessories, politics, and political activism. The program is hosted by Matt Mallory and Klint Macro. Learn more about the show here.
We teach courses around the country but with a heavy concentration of classes being taught in the New York cities of, but not limited to, Buffalo, Batavia, Ontario, Syracuse, Bath, Binghamton, Watertown, New Hartford, Oneonta, and Long Island.
Courses and Training We Offer
Active Killer Courses – Training for your staff to protect the flock!
Instructor Certification Courses
Medical Training

ASHI First Aid, CPR, AED Certifications and much more
USCCA Emergency First Aid Fundamentals (EFAF)

Survival Training – From prepping and basic survival to advanced survival skills
Read what our students have to say about us: 
Our team of instructors is comprised of USCCA and NRA Certified Training Counselors and Instructors, Law Enforcement Instructors and Officers, Military Veterans, Paramedics, and Firefighters.
Feel free to contact us with any questions, to signup for any training/education or to book us for any of our provided services. Please remember to vote for pro gun politicians and consider joining the NRA so they can continue to fight for our Second Amendment right to keep and bear arms. If you are not an NRA member you can join here.
PS&Ed Company Sponsors
nra, nra basic course, leosa, handgun, angel armor, uscca, article 35, use of force, handgun, training, hr218, leosa hr218, New York state handgun safety course, concealed carry permit, law enforcement, education, permit course, multi state, nra certified, ballistics, instructors, officers, re-seller, zombie shoot, historical shoots, private lessons, try it before you buy it, pistol shooting, personal protection, metallic cartridge reloading, SIMCO-1, SIMCO-2, SIMCO-3, simco, green gun, tactical clothing, products, public safety, boater education, TIBYBI, driver education, PIRP