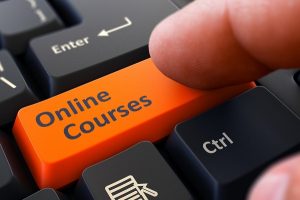 With the advent of the Coronavirus (COVID-19), and with federal and state mandates of social distancing and bans on in-person gatherings, we are all on some sort of quarantine. Due to these unprecedented times, we are now offering some of our over 60 courses, in a distance learning format.
How does our virtual instructor-led training work? Simply signup like you normally would for any of our other in-person courses. When signing up for one of the courses listed below, choose the VIRTUAL COURSE date and time in the drop down list. A short-time, prior to the start of the course, you will be emailed a link for you to participate in the live online class. On the date that you selected, and a little bit before the time selected, you click on the link we provide you and log into the website using your internet connected device, with audio and video on and functioning. A certified instructor will be present during the course to teach the class in its entirety, as if you were all in the same room together.
Contact us with any questions or concerns. We are looking forward to having you in our courses.
Don't forget that the PS&Ed store sells guns, ammo, holsters, TASERs, pepper spray and more. https://psanded.com/products
Did you know that under the Mallory Unlimited umbrella of companies, Mallory Market offers Honeybee products, beehives, eggs, fruits, vegetables, and more. www.MalloryMarket.com
Don't miss the IMDb listed show: www.MeetThePressers.com
VIRTUAL COURSE OFFERINGS
IN ORDER TO RECEIVE CREDIT FOR THESE COURSES:
* Some of our virtual courses require that we get together in-person to finish the practical/shooting requirements, before you will be issued a certificate.
At NO TIME may students handle their own firearms in their area, NO GUN HANDLING is allowed.
You must have a camera and microphone enabled on your digital device and two way, Audio & Video communications must be maintained at all times, during the class.
Breaks will be given and you should refrain from stepping away from the class unless there is an emergency. If you must step away, you will be required to send a private chat message to the instructor explaining the situation and when you will return.
For best quality, please be in a quiet area – close to the microphone, and if possible, try to have your computer hard wired to the internet – though not required. The link provided can be accessed once you receive it. Feel free to login at any time prior to the start date/time to ensure there are no technical difficulties. There will be NO REFUNDS given for technical difficulties! Please plan accordingly.