A structure of courses based off of science and what your body does naturally. If you want to run your gun – in the most efficient way possible – then this course is for you!
Designed by world–renowned instructor, author and consultant Rob Pincus along with his team at I.C.E. Training, the DSF level courses will guide you through the steps you'll need to take to go from just sending rounds down range to actually training in specific, tested methods of armed self-defense.
You will learn how to respond efficiently during a dynamic critical incident. To be efficient, you must be able to process information while performing complex tasks. Defending yourself and those that you love requires you to apply multiple necessary skills, the DSF program will help you to recognize learned stimuli and initiate learned intuitive responses, freeing up your mind to better process information. This is the key philosophy of the Counter Ambush Methodology.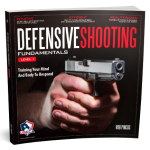 The United States Concealed Carry Association (USCCA) Defensive Shooting Fundamentals (DSF) Level 1 was designed for training your mind & body how to react. It's imperative that you train in as an efficient, realistic and practical a manner as possible so that you are efficiently prepared for a Dynamic Critical Incident. You can't waste time or resources on anything that isn't a specialized area of study. Build the foundation you need to understand intuitive defensive shooting and deadly force decision making. Unlock the lifesaving mindset of the warrior expert theory that will help you guess your attackers next move with ease. Discover how you can develop the ability to apply your shooting skills on demand, without anticipation, while trying to save your own life or the lives of others. Uncover the hands-on live-fire drills you must know to prepare and prevail even under the most dangerous of circumstances. You will be run through the Home-Defense Simulation Drill and if time permits the Take A Lap Drill and Tactical Stroll Drill. Signup via the form on the bottom of the page located here.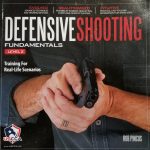 The United States Concealed Carry Association (USCCA) Defensive Shooting Fundamentals (DSF) Level 2 was designed to build off the skills that were developed in the Level 1 Course. We will introduce you to the Emergency Reload, even more life-saving hands-on live-fire drills with more cognitive thinking that make you pause and think before engaging the target. All of this can only help you prepare and prevail even under the most deadly situations. You will be able to take this training and turn it into practice so you can enhance your response time by building your intuitive defensive shooting skills into your motor cortex (muscle memory), in order to help you survive a Dynamic Critical Incident. You will be run through the CCW Simulation Drill and if time permits the Wind Sprint Drill. Signup via the form on the bottom of the page located here.
Course Topics Include:
On-range training in crucial handgun skills
Warrior expert theory
Counter ambush training
Balance of speed and precision
Stance and movement
Grip and trigger control
Presentation from ready and holster
Shooting from retention and emergency reloading
Diagnosing your misses
Defensive shooting drills and simulations
For New York pistol license holders with restrictions, such as sportsman, this course can also put you in a great position when asking your judge for a full carry license without any restrictions! Signup via the form on the bottom of the page located here.
NOTE: This course is for new shooters and experienced shooters alike. However, the more comfortable you are with your weapon, the more you will get out of the course. Though not required, we suggest that new shooters have attend the CCHDF, A35, and SIMCO courses, or similar ones, prior to taking these courses.
Classroom Time: None
Range Time: 8 hours
Prerequisites:
1) Semi-auto pistol (no revolvers)
2) Valid pistol license
3) Completion of Level 1 prior to Level 2
4) Completion of the online eLearning course prior to live-fire training and you must bring the completion certificate with you to the course. (Contact USCCA Instructor Support support@usccainstructors.com or 1-877-577-4800 to purchase the student packet.)
Investment: $210 L1 or $260 L2 (pay here) plus $30 (total retail value of $182) to the USCCA for the eLearning, DSF book, and certificate. Prior students can retake the courses for 50% off!
Instructor: Matthew Mallory
NOTE: Course size is limited to first 8 students and registration closes 10 days before date of the course. Signups after the 10 day window will incur an additional $15 paid to the USCCA. Don't delay, signup today!
PACKING LIST: (for DSF shooting class)

Pistol License
Reliable EDC (every day carry) concealable handgun (9mm recommended)
Quality on body, strong side, concealable holster – NONE OF THESE TYPE HOLSTERS: Serpa, ankle, bra, purse, cross draw, pocket, or shoulder. (PS&Ed makes holsters, inquire prior)
Three to four magazines
Magazine pouch or pockets to store mags
150-200 rounds of target ammunition (PS&Ed sells ammo, inquire prior)
Hearing protection
Eye protection
Pen and paper for taking notes
Snacks and/or a lunch, we will not have time to take a lunch break during the eight-hours. Otherwise, PS&Ed has water, soda, and granola bars for sale.
Base ball cap/hat with brim * Suggested
Weather and range appropriate clothing
Signup via the form on the bottom of the page located here.