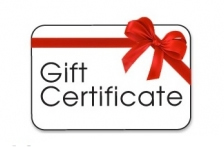 Purchase a gift certificate for $25 up to $1,000 that can be used for any product, service, or course. So you don't know what to buy that special someone? Give the gift of professional firearms instruction and/or shooting lessons! Let them decide what gun and/or accessory they want at the PS&Ed store. This is a great gift for that sportsman or woman who has everything. Let them chose the gift without fear of them returning it. Great for birthdays, Christmas, Valentines Day, a way to say thank you, or just a way to say that you care!
Gift certificates can be used for any product or service offered by PS&Ed. Soon after purchase, we will provide you with an emailed certificate that can be printed and given as a gift. The certificate will include a coupon code that can be used in our online store at anytime up to one year from purchase. For those items, such as courses, that are not listed in our online store just yet, don't fret! The certificate can be used for our world class training as well! The holder of the certificate can simply signup for a course and put the code in the comments. It's as simple as that.
Terms: Gift certificates must be used within one year of date listed, no cash value, non-transferable, may not be combined with any other offers, and course materials may be extra/not included. Contact us with any questions.