Ballistics Window Safety Film Installation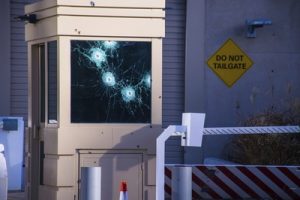 To keep out, or at least slow down, active killers it is imperative to fortify a building's outside perimeter glass and interior safe rooms! That is where our 18-21mil window film comes in. Our film is also great in protecting against storms, bombs, burglars, and more. We can also add window tint for privacy or protection from UV rays. Contact us for more info.
Protect from Break-ins
Protect from Burglaries
Protect from Active Killers/Shooters
Protect from Storms
Protect from Riots
---
Surveillance System Installation
To help protect, and stay connected to, your property at all times we offer surveillance system installations. Our systems provide remote viewing, enabling you to view security footage remotely either from a computer, smartphone, or tablet. Resolutions ensuring you can see and record your CCTV footage clearly. Cameras have night vision and are suitable for the outdoors. Contact us for more info.