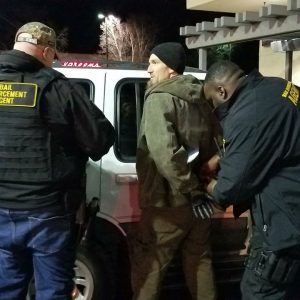 So you want to be the next big name bounty hunter? Who doesn't? Having the freedom of being in business for yourself, a daily thrill of the chase, and on and on. If that is what you thought, well you have been watching too much television! LOL. We can't guarantee that you will have fame and fashion sense like some of those on TV or YouTube, though we can guarantee that you will walk away with much more knowledge than you currently have and be prepared to start a career in the industry of bail enforcement. This course is designed for those interested in learning how to capture fugitives for a monetary reward (bounty).
Call it bail enforcement, bounty hunting, fugitive recovery, or bail bond investigations, hunting and apprehending fugitives from the law, can be exhilarating! The career has existed all over the world, though today, the United States is primarily the main location of bail agents (A.K.A. bail enforcement agent, bail recovery agent, recovery agent, fugitive recovery agent, etc.). This is the mandatory New York State 25 hour Bail Enforcement Agent (BEA) Course. This course is required in order to be licensed as a BEA under NYS law. Upon successful completion of the course, you will receive an original course certificate. Signup for this course at the bottom of the page!
Reasons To Take This Course:
To become a New York State licensed Bail Enforcement Agent (BEA), after three years of work experience.
To gain training, to help obtain a job in the field, which builds the work experience necessary to become licensed.
Length: 25 Hours (3 days – Fri night and Sat-Sun OR 5 days – M-F night)
Instructors: Licensed as BEA instructors through New York State Department of State – Division of Licensing Services
Investment: $475 includes course and NY State BEA Certificate upon successful completion. You will be taken to the payment page to enter a credit card after registering. Alternately, you can make payment here with check.
CLICK SUBMIT REGISTRATION ABOVE
Qualifier to be a certified NY BEA:
Experience – Three years' experience as a police officer; an investigator in an agency of the state, county, or federal government; or an employee of a licensed private investigator or at a firm, partnership, company, or corporation where one member has been performing the duties described in the definition of bail enforcement agent; OR twenty years' experience as a police officer or fire marshal
Education – Completion of a training program not less than 25 hours as approved by the Secretary of State (Training may be waived when the person has served as police officer for not less than three years.)
Advanced Training: Other training offered includes skip tracing, surveillance, handcuffing, defensive tactics (hand-to-hand combat, weapons disarming), and pepper spray.
Course Curriculum
New York State Licensing Law and Regulations
Liability Issues:

Civil
Criminal
Search or seizure of bailee/fugitive,
Entering homes, businesses and vehicles

Rights of bailee/fugitive

Taylor vs Taintor
Rights of accused under State Law
Rights of accused under Federal Law
Extradition

Criminal and civil law relating to bail bonds
Basic concepts of criminal justice law
Ethics and professionalism
Report writing
TERMS AND CONDITIONS:
Payment: This course is only $475. After filling out the form above and clicking the "Submit Registration" button above the form will take you to a page to make payment with credit card. If you accidentally closed out of the payment page you can make payment from our PAYMENT PAGE. If you want to mail a check/money order you can close out of the payment page, after clicking "Submit Registration" above and visit our PAYMENT PAGE for directions on where to mail a check/money order and who to make it out to. You can also review our payment terms on that page.
Registration: We do not accept walk-ins. You will need to register above and fully make payment in order to secure a seat in this course.
Citizenship & Convictions: You must be a LEGAL United States Citizen in order to attend this course. Past convictions might not bar you from obtaining your pistol license. If you have questions, contact us.
Contact us with any questions.