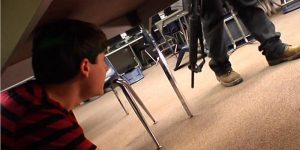 Active killer atrocities seem to be a daily occurrence. They can happen at any place, at anytime, for any reason or no reason at all.
Schools, malls, and even churches are not safe from active killers. Even worse, many places feel that putting up a sign that says "No Guns Allowed" will keep bad people from entering. We all know that is not the case! So how do you prepare? Do you practice good situational awareness? Are you keen to what is going on around you and what things people are doing that could be a warning sign? Do you know how to fight back if needed? Do you know basic first aid techniques?
Christian Sheepdogs must sound the alarm and join together to defend the flock. Scripture tells us, "There will be terrible times in the last days…" (2 Timothy 3).
Our goal is to educate good people so that they can implement what is needed so that lives are saved! We offer training and products for schools, churches, and businesses and have put our experience and background to work to help good people have the skills and tools to slow down and stop active killers, before they can carry out their heinous plan.
Training offered includes:
Active Killer – Free Seminar, 2-hours FREE
Security Assessment, Lay the groundwork for your safety preparedness plan by conducting an in depth Security Assessment. (3-hours $300 flat)
Active Killer – Basic Course, Being aware of your surroundings, noticing pre-assault indicators, and putting safeguards in place is key to thwarting an active killer prior to them firing a round! We delve into many aspects of being mentally and physically prepared prior to and at the onset of an active killer event. (4-hours $40ea attendee)
Active Killer – Advanced Course, Transferring your situational awareness into action is imperative when an active killer event is in process. In this course we focus on how to respond with less-lethal tools such as pepper spray, TASERs, stun guns, flashlights, and open-hand-tactics/defensive tactics.(4-hours $40ea attendee)
Active Killer – Master Live-Fire Course, This course focuses on the "AII" process and was specifically designed for close quarters where accuracy is paramount. Engaging and stopping the active killer is the goal all while not to causing harm to the innocent people that are caught up in the event. (4-hours $80ea attendee)
Active Killer Drill, Pulling it all together with scenario based drills. Practicing reality based drills builds muscle memory and turns response into a second nature response. (4-hours $1,500 flat)
Read what our students have to say about this FREE seminar:
"Matt, you are a very talented young man. What a blessing to meet someone like you. God bless you in your business and in your life. Your classes were very informative and engaging. God bless you, brother. Hope to see you again sometime." ~ Ricky from Syracuse, NY about our Church Security and SABRE Red Pepper Spray Courses
Matt, you are a very talented young man.
"Thank you, Matt for all the great instruction. I am definitely going to be more aware and watchful. God bless you as you raise your two year old. What a wonderful thing you and your wife have done." ~ Diane about our Church Security Courses
I am definitely going to be more aware and watchful.
"You were informative and thorough, and entertaining at the same time. I took a six hour course and the time just flew by. I am so much more aware of my surroundings now and feel better prepared for the unexpected. Thank you, Matt! I will recommend your classes to everyone! You are truly an amazing person!" ~ Lynn from Syracuse, NY about our Church Security Courses and SABRE Red Pepper Spray Course
You are truly an amazing person!
"I believed the course, contents and instruction to be perfect. The six hours went by quickly. Looking forward to more." ~ Mick from Syracuse, NY about our Church Security Course
The six hours went by quickly.
Another excellent PS&ED course.
We will focus on the strategies of Avoid, Deny, Defend (ADD) and Run, Hide, Fight. You will learn valuable life saving ways to avoid, fight, and survive an active killer event!
This course will include sections of curriculum and experience from the following sources:
Military, Law Enforcement, NRA, and Paramedic Instructors with many years of experience with active killer events and in breaching and clearing buildings.
Chose a date and location in the form below to register. If you are interested in hosting any of the above courses or seminars in your area or at your location please contact us.
CLICK SUBMIT REGISTRATION ABOVE
Other training that we offer can be found below. If something you are looking for is not listed please contact us.
ADVANCED/OTHER TRAINING

TERMS AND CONDITIONS:
Payment: After filling out the form above and clicking the "Submit Registration" button above the form then go to the PAYMENT PAGE to pay for the course that you registered for. If you want to mail a check/money order you can close out of the payment page, after clicking "Submit Registration" above and visit our PAYMENT PAGE for directions on where to mail a check/money order and who to make it out to. You can also review our payment terms on that page.
Registration: We do not accept walk-ins. You will need to register above and fully make payment in order to secure a seat in this course.
Citizenship & Convictions: You must be a LEGAL United States Citizen in order to attend this course. If you have questions, contact us.
You agree and understand that the information presented in this course is not legal advice and any actions you take or decisions you make are of your own volition. You agree to hold harmless PS&Ed, it's employees, and/or contractors.
At Your Location: For your convenience, we offer the above courses at your location for only $10 more per student. We do require a minimum of eight students for any private course. Contact us to book a course at your location or chose "TBD At Your Location" from the above form drop down and we will be in touch to set a date.
Contact us with any questions.