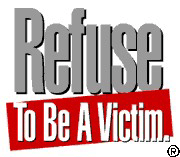 Millions Of People Are Victims of Crime Annually- Don't Be One Of Them! Improve your personal safety strategies with the NRA Refuse To Be A Victim® (RTBAV) Seminar and learn practical information geared toward awareness and avoidance of criminal attack. Experts agree that the single most important step toward ensuring your personal safety is making the decision to refuse to be a victim. That means you must have an overall personal safety strategy in place before you need it. Through our Refuse To Be A Victim® Seminar, you can learn the personal safety tips and techniques you need to avoid dangerous situations and avoid becoming a victim. Hundreds of federal, state, and local law enforcement officials nationwide have implemented Refuse To Be A Victim® into their crime prevention and community policing initiatives.
Here are just some of the topics presented in this seminar:
Mental conditioning and situational awareness to help you learn common mistakes that jeopardize your personal safety and ensuring your public presence doesn't put you at risk
Physical security with items every person should and shouldn't carry on their person along with practical defensive tools, techniques, and other training options
Using technology as smart safety solution and technological/cyber security
Workplace security and understanding the inherent vulnerability of certain professions
Information about the psychology of the criminal mind and understanding criminal cues and mindset
How to make your home safe and secure
Automobile and travel security
And much more…
Signup now at the bottom of this page…
TERMS AND CONDITIONS:
Payment: This seminar is only $20 for the two-hour seminar and $40 for the four-hour seminar. After signing up for the course above, please visit our PAYMENT PAGE to review the payment terms and make a payment for this course.
Registration: We do not accept walk-ins. You will be registered upon receipt of the application and payment.
This is not a firearms course or self defense class. It's all about knowledge and how you use it. This seminar is a must for any person 13 years or older who is serious about their safety and well-being! This is NOT a live-fire course! DO NOT BRING ANY GUNS OR AMMO TO THIS COURSE! 
Contact us to setup a Refuse To Be A Victim® Seminar at your home, business, school, hospital, daycare center, neighborhood watch group or library.