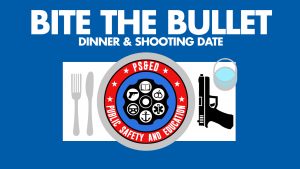 Our Bite the Bullet is a Dinner and Shooting Event laid out in two formats, as noted below. Come out with your significant other, with a friend, or solo, for some good food and good times. Get fed with knowledge and food!

Price: $75-115 per person, depending on event
Length: 3-4.5 hours, depending on event
Lead Instructor: Matthew J. Mallory
The Pre-License Event is four-and-a-half hours long, will be held at Dusty's Diner, 3 North St., Marcellus, NY 13108. This event is for those looking to get their New York Pistol License, as described here, or for those looking to brush up on gun safety and NY laws. While you partake in a great meal Matt will teach the four-hour course, required by many NY Counties to apply for a pistol license. After class, you will don a laser gun and inert pepper spray then we will run you through a simulated attack, like the ones we offer in our Smokeless Range – Shoot, Don't Shoot Course. This event cost is $75 per person and is all inclusive. Chose your meal at time of registering below. Coffee Bar open for purchase at additional cost. More about Dusty's can be found here: www.DustysDiner.com
The Live-Fire Event is three hours long, will be held at PS&Ed HQ in LaFayette, NY, and catered by Chef Billy-Brendan Ginty. This event is for anyone who likes to eat and shoot guns as well as those looking to get instruction on how to shoot guns. We start with a nice catered buffet-style dinner (food offered is noted below) and then walk out back to our range to shoot your firearm or one that you have rented from us. An NRA and USCCA Certified Firearms Instructor will be available for safety and to provided free instruction to those who are interested. This event cost is $115 per person and is all inclusive except for renting a gun from us. You will only need a pistol license if you plan to bring a handgun or shoot one of our handguns. Bring your own firearm (any legal type or caliber) and ammo and shoot at our paper and steel targets. Don't have a gun? No problem! For $50 extra you can shoot one of our .22 rifles, and ammo is included. Want to shoot something bigger? For $75 extra, we can help! Pick a gun from our Try Me/Buy Me list here, and we will have the gun and ammo there for you to shoot. Signup below and let's have some fun! Meal includes: Garden salad w/dressing, whipped potatoes, roasted vegetables, rice pilaf, roasted pork loin or chicken Breast.
CLICK SUBMIT REGISTRATION ABOVE
PREREQUISITES:
Must be at least 12 years old to attend. To shoot handguns, you must be between 14 and 20 years of age, or those 21 and older must present a valid New York Pistol Permit upon arrival.
TERMS AND CONDITIONS:
Firearms & Ammunition: For the live-fire event you will need to bring your own firearm and ammunition unless you chose to rent one form us.
Payment: This dinner and shooting event is $75-115 per person depending on which event you chose. After filling out the form above and clicking the "Submit Registration" button. Then you can make payment from our PAYMENT PAGE. Learn more about paying with check, money order, and Bitcoin/Crypto after clicking "Submit Registration" above by visiting our PAYMENT PAGE for directions. You can also review our payment terms on that page.
Registration: We do not accept walk-ins. You will need to register above and fully make payment in order to secure a seat in this course.
Citizenship & Convictions: You must be a LEGAL United States Citizen in order to attend this course. If you have questions, contact us.
At Your Location: For your convenience, we offer the above courses at your location for only $10 more per student. We do require a minimum of eight students for any private course. Contact us to book a course at your location or chose "TBD At Your Location" from the above form drop down and we will be in touch to set a date.
Contact us with any questions.