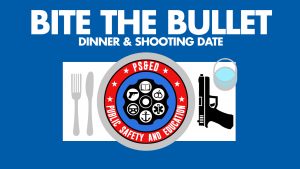 Our Bite the Bullet – Dinner and Shooting Date, starts out with a nice catered dinner at the range then transitions to live-fire shooting right afterwards. We'll also have NRA and USCCA Certified Firearms Instructors providing free instruction to those who are interested. To top it off, you will be able to shoot the coveted PS&Ed spoterized Mosin Nagant sniper rifle at a 400 yard target! Come out with your significant other, or with a good friend, for some good times.
Price: $99 per couple
Length: 3 hours
Lead Instructor: Matthew J. Mallory
Choose between pulled pork, chicken, or a veggie burger. All meals come with salt potatoes and baked beans along with your choice of soda or water. Bring you own firearm (any legal type or caliber) and ammo and shoot at our paper and steel targets. Don't have a gun? No problem! For $25 extra you can shoot one of our .22 rifles, and ammo is included. Want to shoot something bigger? For $50 extra, we can help! Tell us what you want to shoot and we will do our best to bring the gun and ammo that you desire. Signup below and let's have some fun!
CLICK SUBMIT REGISTRATION ABOVE
PREREQUISITES:
Must be at least 12 years old to attend. To shoot handguns, you must be between 14 and 20 years of age, or those 21 and older must present a valid New York Pistol Permit upon arrival.
TERMS AND CONDITIONS:
Firearms & Ammunition: You will need to bring your own firearms and ammunition unless you chose to rent one in the form above.
Payment: This dinner and shooting event is $99. After filling out the form above and clicking the "Submit Registration" button above the form will take you to a page to make payment with PayPal/credit card. If you accidentally closed out of the payment page you can make payment from our PAYMENT PAGE. If you want to mail a check/money order you can close out of the payment page, after clicking "Submit Registration" above and visit our PAYMENT PAGE for directions on where to mail a check/money order and who to make it out to. You can also review our payment terms on that page.
Registration: We do not accept walk-ins. You will need to register above and fully make payment in order to secure a seat in this course.
Citizenship & Convictions: You must be a LEGAL United States Citizen in order to attend this course. If you have questions, contact us.
At Your Location: For your convenience, we offer the above courses at your location for only $10 more per student. We do require a minimum of eight students for any private course. Contact us to book a course at your location or chose "TBD At Your Location" from the above form drop down and we will be in touch to set a date.
Contact us with any questions.