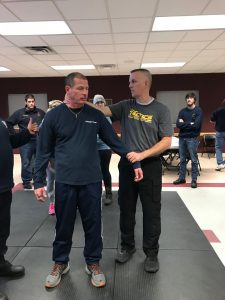 It may be hard to imagine being attacked but it happens every day to good people that are not looking for trouble! These attacks occur without warning and when individuals least expect it. It is extremely important for everyone to be prepared for times like these. Taking the subject of self-defense seriously and knowing how to handle situations before, during, and after an encounter could be the difference between life and death!

By learning the basics of mindset and self-defense you help prepare yourself for dangerous and unforeseen circumstances.
Learn critical skills to block, defend, and defeat a threat of physical or deadly physical force. The skills you will gain can help to protect you and your loved ones against a violent attack. This training is ideal for anyone interested in learning how to use their mind, voice, hands, feet, and body as a whole to thwart physical aggression directed towards them.
Hands on Course Time: 2 hours
Prerequisites: Must be in fair physical health with no injuries or major medical conditions.
Investment
: $40
Instructor
:
Matthew Mallory
, Army Veteran, currently sworn Law Enforcement Officer and NY DCJS/MPTC Law Enforcement Defensive Tactics Instructor for NY LE annually and for academy recruits.
Register using the form at the bottom of this page or contact us for more info.
All training is completed in a gym type setting. Dress in comfortable workout clothing. Be prepared to get sweaty and bruised from blocking punches and kicks. Register below and join us for an exhilarating workout!
CLICK SUBMIT REGISTRATION ABOVE
TERMS AND CONDITIONS:
Payment: This course is only $40. After filling out the form above and clicking the "Submit Registration" button above the form will take you to a page to make payment via the type you selected. If you accidentally closed out of the payment page you can make payment from our PAYMENT PAGE. If you want to mail a check/money order you can close out of the payment page, after clicking "Submit Registration" above and visit our PAYMENT PAGE for directions on where to mail a check/money order and who to make it out to. You can also review our payment terms on that page.
Refunds: You are paying for a seat in a course. You agree to follow through on the commitment made and that no refunds will be given or offered for any reason.
Registration: We do not accept walk-ins. You will need to register above and fully make payment in order to secure a seat in this course.
You agree and understand that the information presented in this course is not legal advice and any actions you take or decisions you make are of your own volition. You agree to hold harmless PS&Ed, it's employees, and/or contractors.
Weapons, Firearms, and Ammunition: All training weapons for the courses will be provided by PS&Ed and there is no need for you to bring any weapons with you. For safety reasons no weapons, guns, or ammunition will be allowed into this course.
At Your Location: For your convenience, we offer the above courses at your location for only $10 more per student. We do require a minimum of 10 students for a private course. Contact us to book a course at your location and we will be in touch to set up a training date.
Contact us with any questions.