So you want to build your own rifle but don't know where to start? Maybe you built your own AR in the past but want or need a little help or maybe just want a different or larger caliber.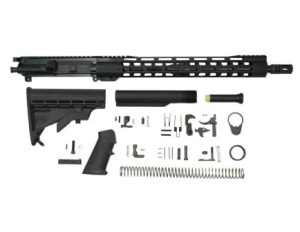 We will start out with a short PowerPoint to cover the history of the AR and nomenclature of the parts before we start to assemble the lower receiver. Once the build is complete we will take it to our onsite range and zero the rifle in. Nothing says nostalgia like gun powder and a gun you have built with your own hands! You will go home with memories, photos/videos, souvenir brass, and the rifle that you built! Fill out the registration form below and select the rifle package you want to build. This class will be capped at 8-10 students so don't wait or you could miss out! Contact us for more info.
The below kits include sights/scope, one magazine and pinning kit, ammo to zero, state background check fee, and our 2A Bear t-shirt.
Kit 1: 5.56 16″ barrel $800
Kit 2: 300BO 16″ barrel $1,000
Kit 3: 6.5 Grendel 20″ barrel $1,250
PREREQUISITES:
Those 12-20 years old may attend but need a parent, with a semi-auto rifle license, present to do the NY background check. A valid government photo ID will need to be presented, when signing in at the course and liability waiver will need to be signed.
TERMS AND CONDITIONS:
Payment: Payment will need to be made to secure your rifle parts and seat in the class. Ammo to zero in your rifle will be provided. More ammo can be purchased at a nominal fee.
Registration: We do not accept walk-ins!
Firearms & Ammunition: All firearms and ammunition will be provided for this course.

Contact us with any questions.