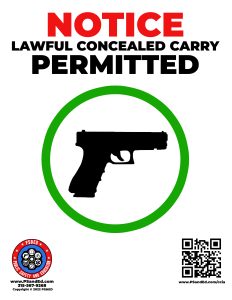 If you are looking to obtain or keep your NY pistol license/permit and need to take the New York State Concealed Carry Firearm Safety Training, click here.
Businesses, download your FREE Second Amendment supporting, LAWFUL CONCEALED CARRY PERMITTED printable sign here!
Patriots, download the free NO 2A NO BU$INE$$ Flyer to hand out to businesses to educate them and drive them to putting up the Second Amendment supporting, LAWFUL CONCEALED CARRY PERMITTED Sign.
Join the movement! Support those businesses that support our Second Amendment RIGHT to defend ourselves from evil!
The below CCIA Update Course will answer many questions about the new CCIA, SAFE Act, and other New York laws as well as what training you need to apply for, keep, or upgrade a pistol license and/or semi-auto rifle license.
Who should take this two-hour $20 course?
1) Those who currently own firearms or are looking to purchase a firearm and would like to know more about these laws in NY State.
2) If you are looking to get credit for courses you have taken from PS&Ed over the past five-years prior to 1 September 2022. This course will give you the Derringer punch on the "Update" icon on the PS&Ed punch card. Once all icons have been punched you will be issued the 18 hour certificate. More information and registration can be found below.
On June 23rd 2022 the Supreme Court of The United States (SCOTUS) ruled in the New York State Rifle and Pistol Association (NYSRPA) vs. Bruen case, which took seven-years to make it to the Supreme Court, that New York State's "proper cause" scrutiny was not constitutional. While many states immediately started to comply with the SCOTUS ruling the political mob of New York State was enraged. To spite SCOTUS and their ruling, the NY State Senate and Assembly put forth S51001 and the governor signed it into law on the 1st of July 2022. This law is called the Concealed Carry Improvement Act (CCIA).

Topics Covered in this Training:

Who needs to take the new 18-hour Concealed Carry Firearm Safety Training and what the course entails.
The statutorily defined sensitive places.
Suicide prevention.
Safe gun storage.
How to remove the sportsman restriction on your pistol license.
How to upgrade your license from a premise to concealed carry license.
Default of no concealed carry on private property and businesses.
Firearm safe storage requirements, general firearm secure storage, and transportation best practices.
Background check for all ammunition purchases.
All new semi-auto handguns sold must have micro stamping.
Semi-auto rifle sales to 21 or older and rifles now listed on a license.
New eligibility requirements and new disqualifying criteria for those seeking concealed carry permits.
Restrictions on the private sale or transfer of firearms.
Requirements for keeping firearm license information up to date under license recertification and renewal requirements.
Classroom Time: 2 hours
Range Time: None
Prerequisites: None
Investment: $20 (Register below then make payment)
Instructor: Matthew Mallory
This course is taught by Matthew Mallory, a currently sworn law enforcement officer, New York State DCJS/MPTC Certified Law Enforcement Instructor, and an International Law Enforcement Educators & Trainers Association (ILEETA) Member and Instructor. Matt teaches hundreds of courses annually to many thousands of people all over the country. On top of his many thousands of hours of training around the world, in the military and law enforcement, he continuously attends training nationally in self-defense and firearms, both as a student and as an instructor. Annually, he meets with county judges, sheriffs, and DAs, has met with and interviewed people who are survivors of deadly encounters and interviews people on his show Meet The Pressers. Matt is also a weekly guest every Wednesday morning around 6am on the Syracuse Morning News with Dave Allen.
CLICK SUBMIT REGISTRATION ABOVE

TERMS AND CONDITIONS:
Payment: This course is only $20. After filling out the form above and clicking the "Submit Registration" button above the form will take you to a page to make payment with credit card. If you accidentally closed out of the payment page you can make payment from our PAYMENT PAGE. If you want to mail a check/money order you can close out of the payment page, after clicking "Submit Registration" above and visit our PAYMENT PAGE for directions on where to mail a check/money order and who to make it out to. You can also review our payment terms on that page.
Registration: We do not accept walk-ins. You will need to register above and fully make payment in order to secure a seat in this course.
Citizenship & Convictions: You must be a LEGAL United States Citizen in order to attend this course. If you have questions, contact us.
You agree and understand that the information presented in this course is not legal advice and any actions you take or decisions you make are of your own volition. You agree to hold harmless PS&Ed, it's employees, and/or contractors.
Contact us with any questions.