If you are a civilian instructor and want to teach Force-on-Force Courses – like these, using UTM products, this is the course for you.
The objective of this course is to provide the student with a working knowledge of the Ultimate Training Munitions system of products and training. After completion of this block of instruction the participant will have obtained the knowledge and skills to safely and effectively utilize the full line of UTM Ammunition and Firearms Conversions.
Additionally we will provide an overview of the UTM Force on Force Training Model which can be used to design force on force or force on target training in a variety of environments. Additionally, completion of this class waives the $100 fee and two-hour online course that is required to become a UTM Certified Professional Training Organization. Becoming a PTO will give you access to purchase UTM products directly from the manufacturer at a discount.
You will be required to pass a written certification exam as well as complete a brief practical "hands on" demonstration of proficiency and understanding of the skills and concepts provided during the block of instruction.
Product and Training topics covered will include:
UTM Safety and Technology of firearms conversions and ammunition
Assembly, Maintenance trouble-shooting of all UTM products
Designing safety and effective training using UTM ( UTM training model) across disciplines ( Firearms, Tactics, DT)
Personal Protective Equipment (PPE)
UTM Portable Training Facility use
Application of UTM for more than Force on Force ( MTFOF)
Test-fire and Q&A
PROGRAM DETAILS
Course Costs: $300
Course Length: 8 hours
Certification: UTM Certification approved PS&Ed certificate
Attendance Requirements: Certified Instructor (NRA, USCCA, etc)
Attendee Requirements:
Two layers of loose fitting clothes (no exposed skin)
Thick gloves that you can shoot with
Note-taking materials
Facility Requirements: Classroom and or Range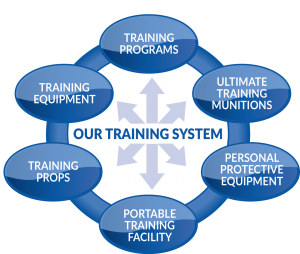 The UTM System is where technology and practical application have blended together to not only redefine the training industry standard, but revolutionize it. Our innovative training model, within the system, provides a roadmap on how to develop training that tests agency protocols, reverse engineers training from real events, and bridges the gap between firearms, tactics and combatives. The flexibility within the Training Model, provided by the technology of our munitions and the innovative and intuitive training methodology, was specifically designed to be easily adaptable throughout the training cycle and applied to any skill level, from basic students, advanced operators or even combined classes of students from assorted backgrounds and competencies.
CLICK SUBMIT REGISTRATION ABOVE BEFORE MAKING PAYMENT!
Payment: This course is only $300. After filling out the form above and clicking the "Submit Registration" button the form will take you to a page to make payment with PayPal/credit card. If you accidentally closed out of the payment page you can make payment from our PAYMENT PAGE. If you want to mail a check/money order you can close out of the payment page, after clicking "Submit Registration" above and visit our PAYMENT PAGE for directions on where to mail a check/money order and who to make it out to. You can also review our payment terms on that page.
Registration: We do not accept walk-ins. You will need to register above and make payment to secure a seat in the course.
Citizenship & Convictions: You must be a LEGAL United States Citizen in order to attend this course. Past convictions might not bar you from obtaining your pistol license. If you have questions, contact us.