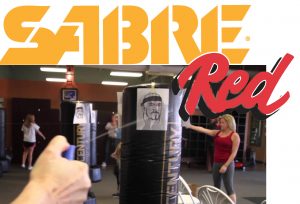 There are criminals and mad clowns on the streets! Are you prepared to defend yourself? Are you not ready to use a gun for personal protection or would you like to compliment your firearm with another tool in that time of need?
A great less-than-lethal option for self-defense is Oleoresin Capsicum (OC) or otherwise known as Pepper Spray. Extracted from peppers, OC spray irritates the eyes to cause tears, pain, and temporary blindness. This course is run by law enforcement instructors certified by New York DCJS/MPTC, Safariland, and Sabre Red.

Read what our students have to say about this course:

"Matt was fantastic! The sabre red class was my first class here so I wasn't sure what to expect. Matt made the information entertaining and educational. I learned a lot in the class. In fact, I've been working on my muscle memory and practicing using the pepper spray and how to move out of the way. I've already signed up for 2 other classes – the basic safety class – since I'm beginning the arduous process of getting my pistol permit, – and the article 35 class in June. If Matt is teaching these classes, then I know I will learn a lot and I'm really looking forward to them." ~ Christine from Liverpool, NY about our SABRE Red Pepper Spray Course
Matt was fantastic!

"I attended Matt's class on Pepper Spray recently and found it very helpful and informative. It was a good combination of classroom and practice so that I felt more comfortable actually using the pepper spray canister should I ever need to. Matt's classes are enjoyable with a relaxed atmosphere while at the same time much information is covered. I particularly liked the small class size as it allowed us extra time for practice. I would recommend classes with Matt and intend to take a few more myself." ~ CJ from Jamesville, NY about our SABRE Red Pepper Spray Course
…found it very helpful and informative.
Learn the safety mindset and adopt the tools to protect yourself and your family. You'll participate in hands on training to help prepare you to escape a dangerous threat. Become proficient and accurate when using your pepper spray by deploying Water Filled, Inert Practice Sprays at Static Targets. Advance your skills by deploying the Practice Spray at your instructor during a simulated attack! BE SMART – BE READY – BE SAFE!
Students will be exposed to four (4) hours of Safety Awareness Information, Tips, Skills and Techniques within an intimate and fun atmosphere. Class sizes are limited allowing the instructor to critique your performance and provide important feedback.
Each student will receive: Civilian Safety Awareness Manual, 3 Water Filled Inert Practice Canisters, Defense Spray with Quick Release Key Ring, Survivor Skills for Smart Living, a Certificate of Completion, Classroom Time, and Hands On Training

;
Addresses of Locations: