The Combative Pistol, Level Two (CP2) is an intermediate 2-day class focused on hammering out the rough edges to the modern gunfighter. If you have taken an NRA or USCCA live-fire pistol course this is your next step! The class focuses on the defensive pistol use under high stress. Structured range drills, both dry and life fire, further develop essential fighting skills with a pistol on subjects such as; combat marksmanship, rapid drawstroke, gun handling, shooting on the move, multiple threats, strong hand only and flashlight practical to name a few. Students' progress towards increasing shooting speed and combat marksmanship on a consistent basis. Essential skill development, technique improvement, and overall ability is facilitated by immediate feedback from instructors and graded drills throughout this class.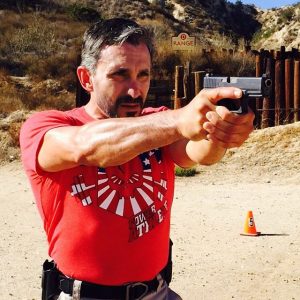 Date: 5-6 September 2020
Time: 9am-5pm (16 hours)
Location: PS&Ed HQ in LaFayette, NY 13084
Prerequisites: Combative Pistol, Level One or similar
Investment: $525
Register and Pay: CLICK HERE
Instructor: Jeff Gonzales
Terminal objectives:
Upon completion of the Combative Pistol, Level Two (CP2) class, the student will successfully qualify using a tactical pistol equipped with iron sights or MRDS firing duty ammunition with an 80% or better on all graded evolutions.
NOTE: Minimum qualifying score will be 80% overall as a Marksman to receive a training certificate.
Enabling objectives:
Upon completion of this course of instruction, the student will be able to demonstrate an understanding of the course material through verbal discussion and/or practical exercises of the following tactics, techniques and procedures:
Explain firearms safety
Explain safe firearms handling protocol
State nomenclature and manual of arms for the modern semi-automatic pistol
Demonstrate knowledge of basic pistol equipment and individual combat equipment
Demonstrate the Defensive Mindset through equipment selection, skill development and practical application
Demonstrate Combat Shooting System™ with a modern semi-automatic pistol
Perform preparatory marksmanship training exercises
Perform pistol manipulation training exercises
Explain anatomical target zones.
Perform preparatory, basic and combat marksmanship training exercises.
Perform ready positions training exercises.
Perform drawstroke training exercises.
Perform malfunction clearances; combat reloading and ammunition management training exercises.
Perform strong hand only training exercises.
Perform shooting on the move training exercises.
Perform multiple threat training exercises.
Basic gear list:
Defensive pistol (9mm recommended)
1,000 of factory ammunition
1st Line gear: rigid belt, sturdy OWB holster, magazine pouches and dump pouch
5 pistol magazines minimum (8 magazines for single stacks)
5 inert training rounds
Training uniform; long pants, comfortable shirt, athletic shoes, a ball cap, and gloves
Handheld flashlight
Multi-tool
Wrap around ballistic eye protection and hearing protection
Hydration system and energy snacks
Firearms cleaning kit and quality lubrication
Daily training schedule:
Day 1: Classroom-administrative items, Warrior Mindset, range safety brief. Range-gun handling skills & dry-fire practice, skills assessment, Combat Shooting System™, pistol diagnostic drills and basic marksmanship drills. Range-ready positions, timed ready position drills, pistol drawstroke, timed pistol drawstroke drills, timed speed drills, immediate action drills, timed immediate action drills, remedial action drills, timed remedial action drills and stress course.
Day 2: Range-threat neutralization, ammunition management, lateral movement, and reduced target drills. Range-precision drills, strong hand only, ready positions drills, diagnostic shooting drills, stress course, speed drills, battle drills, pivots/turns, use of cover and final test. Classroom-debrief and closing comments.
The training schedule is subject to change without notice depending on available training facilities, weather conditions and overall class skill level.