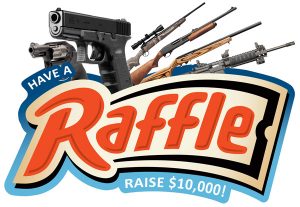 Does your organization raffle off guns and other sporting goods to raise money? Fire departments, gun clubs, and non-profits alike chose to do raffles in order to raise needed funds for operating costs, expansions, etc. Picking the most common and desirable items for your raffle is crucial to ensure it is a success! Knowing what items are top sellers in the industry is just part of the battle. Getting fishing, hunting, outdoor items, firearms, and accessories at a good price is the other battle.
NOTE: Assembly bill A01413 relates to prohibiting firearms as prizes in any game of chance. Contact your NY representatives and tell them to vote no on this bill!
That is where PS&Ed comes in. Starting out as a firearms training company many years ago we added a Type 07 manufacturing FFL to our offerings. To supply our gun store and gunsmith business we setup directly with well over 20 different national distributors/manufacturers. This means we have great pricing and availability for most of the items you can find online and in the big box stores. We also keep our ear to the ground and annually travel to all of the national shows in the industry such as SHOT Show, NRA Annual Meetings, NRA Great American Outdoor Show, USCCA Concealed Carry Expo, NRA Carry Guard Expo, and others in an effort to find the best selling and newest items on the market. All of our hard work can help your raffle be a success!
Raffles are a big-hit on social media and email campaigns. We can leverage our followers to help your raffle succeed! Mentioning your raffle on Facebook, our website, and our email blasts can only help you to have an epic raffle. Also, we can't forget about the over 60 courses that we teach over 200 times per year! It is inevitable that your raffle will also get exposure from the many thousands of students we train annually.
Partnering with PS&Ed to source your raffle items and market your raffles, is a winning combination. Contact us today to discuss the possibility of PS&Ed helping you run your raffles.
Here's How It Will Pay Out:
Contact us to fill us in on how you operated you past raffles. Letting us know your timeline, what your budget is, and how much you are looking to make will be the topic at hand.
Based on empirical data from the manufacturers, we will provide you with a list of suggested raffle guns that are currently hot (best sellers/most wanted).
You reserve the type and amount of guns that your budget will allow. To reserve your winners guns, payment will be due at this time. A suggested raffle structure includes:

500 tickets at $20 each = $10,000
Reserve 5 guns at $400, you raised $8,000! – 1/100 chance to win
Reserve 10 Guns at $400, you raised $6,000! – 1/50 chance to win

You can then print out your tickets and start collecting money towards your event.
At your event, choose your raffle winners and let them know…

Winners must travel to our store in LaFayette, NY to pickup their gun. Winners will not be charged any transfer fees by us.
Winners not in the area can opt to have the gun shipped to the FFL dealer of their choice. Winners pay shipping.
Winners can trade in their winning gun for anything else they'd rather have for a nominal service/restocking fee.
Optionally, winners can opt for a cash payout if that is part of the agreement you arranged with us.